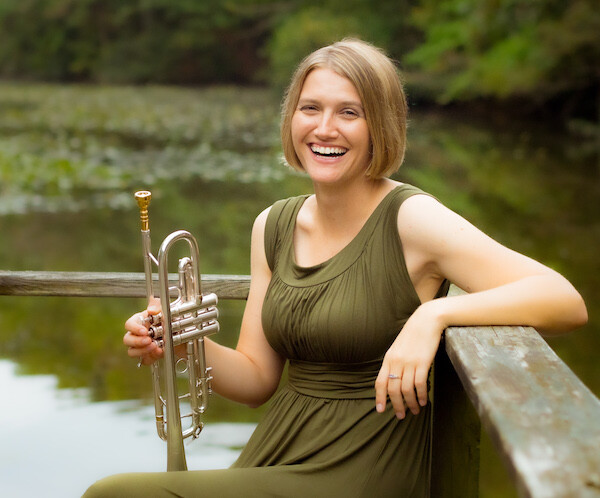 Dr. Carrie Blosser
Competition Coordinator
Dr. Carrie Blosser is a military musician currently serving as trumpet instrumentalist with Navy Band Great Lakes in North Chicago, Illinois. Before moving to Chicago, Dr. Blosser was a U.S. Fleet Forces Band member in Norfolk, VA. Equally comfortable in various genres, she plays over 100 concerts for military, community, and diplomatic ceremonies per year in various groups such as the Brass Quintet, Rock Band, and Wind Ensemble.

As a founding member of Calypsus Brass, she gives performances and masterclasses for chamber musicians and composers from around the globe. Dr. Blosser is a founder of Diversify the Stand, a resource promoting diversity through commissioning, crowdfunding, weekly podcast, book club, and publishing. She currently serves as the co-chair and founding member of the Diversity and Inclusion Committee with the International Trumpet Guild (ITG) and is an active member of the International Women's Brass Conference (IWBC). Dr. Blosser is a clinician for ITG and judges for IWBC, ITG, and the National Trumpet Competition. She has published numerous articles in the ITG journal and the IWBC newsletter. Before military service, she conducted the Rocky Mountain Concert Band and was the Director of Bands at Cooper, Junior and Senior High School in Cooper, Texas. Her students' achievements include selection to Pennsylvania, Texas, and Colorado All-State Bands and advancement to the semi-finals of the National Trumpet Competition as Soloists and Ensemble performers. Dr. Blosser is a recipient of the National Medal of Arts for her service as a musician in the U.S. military "for personifying excellence in music and service to country."

Dr. Blosser received her Bachelor of Science in Music Education from Messiah College, Master of Music in Music Education and Trumpet Performance from the University of Northern Colorado, and Doctor of Musical Arts from the University of Colorado-Boulder.